Do better business and more business with this simple but powerful technique.
I've long been obsessed with Disney World. People think I'm crazy when I tell them—in all honesty—that I'd rather head there than to a remote tropical island. (On second thought, maybe the best case scenario would be a Disney Cruise…a little Disney/a little island.)
I love Disney because I've been a first-hand witness to their magic on countless occasions. Not only have I been lucky enough to grow up going to the parks summer after summer, but I've also gotten to experience the allure of a Disney Cruise—not once, but twice.
As a marketer by profession, I've stepped back to evaluate just how they create this Disney magic. I've been amazed at how remarkable their process is. They're one of the happiest places on earth—with so many visitors and customers every day, how do they pull it off?
Anyone who has experienced Disney magic knows that it's something you just can't find anywhere else. And the reality of it is that it has less to do with engaging cartoons and wild rides and more to do with something you can find everywhere: customer service. But Disney's customer service is truly unique in that it exceeds expectations on a consistent, BIG, magical basis.
We certainly can't all be Disney—but we can prioritize the way we treat customers and work to be a shining example of quality customer service. We might be surprised at the customer retention and acquisition benefits we reap along the way, too.
CUSTOMER SERVICE FOR CUSTOMER RETENTION – THE STATS
Did you know that increasing customer retention rates by just 5% can increase your profits by up to 95%? Happy, existing customers are your best source of advertising, too, because people love to tell other people about great company experiences they've had. Take a look at some of these stunning stats from insightpool:
49% of U.S. consumers say friends and family are their top sources of brand awareness.
Consumers sharing a brand's message have generated over double the sales that paid advertising has.
92% of consumers trust recommendations from others—even those that they do not know—more than promotional content from the brands themselves.
Happy customers stick with the companies that have done right by them. They become walking, talking brand ambassadors. Think about the last time that a business REALLY impressed you. Chances are you told a friend or two about the experience (or maybe even anyone who would listen). Disney visitors share remarkable stories with the public ALL the time. In fact—here's one of my favorites.
People who visit Disney get no-reason hotel room upgrades, free gifts and personalized messages. Returning Disney Cruise customers suddenly belong to the "castaway club" and get all kinds of special, surprise treatments just for coming back.
CUSTOMER SERVICE FOR CUSTOMER ACQUISITION – THE FACTS
55% of consumers say that they'll pay more money for the same product if it comes with a guaranteed good experience. Taking the time to evaluate the way you service your clients and finding ways to make upgrades to the process could pay off tenfold. Check out some of the research surrounding the power of a positive customer experience published by Huffington Post:
If you're offering "upgraded experiences," 86% of consumers are willing to pay more for them.
66% of consumers who switched brands report doing so because of poor service.
84% of organizations have now embraced the customer service model, and note that the "power of pull is greater than the power of push."
CUSTOMER SERVICE – THE TACTICS
Customer service—for current clients or prospects—is best done when it is personalized. Interactions mean so much more that way. Get to know the people that your business allows you to interact with. Learn about who they are.
If you're celebrating a special occasion while at Disney—(ANY special occasion, really)—chances are they have a button for it. The button is for you to wear—but it's really more for them to get to know exactly what you're celebrating. If you're strolling through the Magic Kingdom with an "It's my birthday" button on, for example, Disney crew members will literally shout across the park with HUGE smiles just to wish you a "Happy Birthday." If you happen to have dinner reservations that night, it's almost certain that you'll get a free, candle-lit cake slice. With every birthday wish and unique treatment, they know how to make their visitors feel special.
Here's a few tactics you can use to make your clients and prospects feel special, too:
Make a plan – Meet with staff to formulate a plan for customer service success. Brainstorm ways that you can stand out from competitors. Think of unique customer service offerings that could become the hallmark of your brand.
Learn by listening – I've said it before and I'll say it again: listening is the most important aspect of communicating. Whenever you have the chance to speak with someone about your business, practice active listening. Keep your body turned toward them, don't interrupt, make eye contact and nod. Maybe most importantly, use their feedback to learn, grow and do better next time. People who feel heard and understood feel happier, too.
Get active about responding – If a client or prospect comes to you with a problem, this is a huge opportunity. Respond as quickly as possible. Find solutions to their problems and follow-up to show that you're still thinking about them afterward.
Empower and motivate staff members – When given the freedom to go above and beyond for clients, your staff will come up with creative ways to do so. Encourage co-workers to consistently think of customer service concepts and consider using incentive programs to reward their gold-star service.
Practice consistency – If you're going to implement great customer service across your organization, it's important that you do it all the time. People appreciate consistency and love when a business can be depended upon to deliver (or over-deliver) on their promises.
Walt Disney once said, "If you can dream it, you can do it." Grab your team, plan a customer service strategy that's right for you and your clients, and create some of your very own magic.
What customer service techniques is your business known for? We'd love to hear about them in the comments below!
Looking for more ways to connect with your clients? Read below and use our EQ tips to be better at business—and don't forget to subscribe to our blog!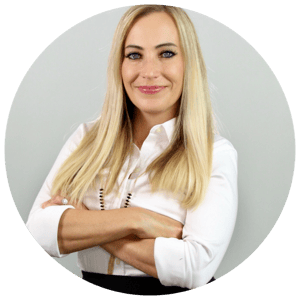 Lindsey Elias, Marketing
As our Marketing Content Manager, Lindsey is passionate about producing quality content. When not at the office or planning her next Disney getaway, she loves hanging with her husband, family and fur babies and indulging in the two c's: carbs & coffee.
Related posts
Brush-up on your networking skills before your next in-person event!
Tips to help independent agents host more productive and profitable meetings.
Let's talk about what it means to have an accessible website and why it's so important for your insurance agency.