Pictures are worth more than 1,000 words
With over 600 million Instagram users today, if you're not utilizing this photo-centric social media outlet, you might be missing out on valuable leads and connections.
Not every social media outlet is useful for every agent but, if your target audience includes people under the age of 30, who live in urban areas and have college experience, then Instagram might be a no-brainer. If you're interested in reaching this audience, you're not the only one. The hashtags #insurance, #insuranceagent and #insurancebroker have already accumulated more than 533,700 posts. How can you create an agent profile that stands out from the crowd and creates buzz?
Be professional
When creating your profile: select a professional head shot or logo as your profile image, include a brief professional bio (tell your followers who you are and what service you can provide in one sentence or less) and include a link to your website.
Be consistent
Timing, voice and images should all be consistent throughout your profile. This means posting on a regular basis, using a similar tone in your posts and sharing similar content.
Be relevant
If your account only shares content promoting your product/services, it won't be attention-grabbing to your prospective clients. To increase your followers (or, pool of possible clients), assess what your target audience is interested in. Find a way to post industry appropriate content that is also relevant to your target audience. Here are three insurance companies who know how to be relevant to their audience: Zurich Insurance, Healthy Paws Pet Insurance and Progressive.
A professional Instagram profile doesn't make sense for every agent's marketing plan. But, if it can be used as a tool to help you work toward a specific goal, then it is important to take the time to make sure your profile is conveying the right message about you as a professional. Asking yourself if a post is professional, consistent and relevant before publishing it can help you to minimize clutter and maximize your potential.
Do you have an Instagram account that other agents can refer to for inspiration? Comment with your username below to get connected!
---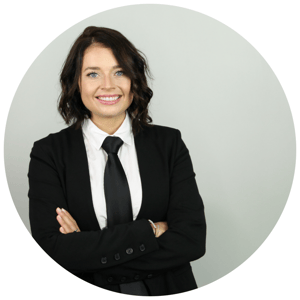 Bri Cappella, Integrated Marketing Specialist
Bri is an over-enthusiastic dog mom, pop culture fanatic and Instagram addict. She enjoys eating pizza, practicing yoga and hiking.
Related posts
Let's talk about what it means to have an accessible website and why it's so important for your insurance agency.
The feeling of being drained from these meetings has become so prevalent it's earned its own terminology – Zoom fatigue.
We think it's time to put to bed the myth that sacrificing sleep is the pathway to success.