Being too businesslike can actually hurt your insurance business.
Our CEO says it all the time—the insurance business is a business about relationships. If you haven't developed quality, trusting relationships with your clients and prospects, they will have no reason to work with you. But in order to build authentic relationships, you have to be willing to get real.
FAKE FEELS FRUSTRATING AND SHALLOW
Think of your last call with a telemarketer. You have no established relationship with this person, and they certainly aren't calling to change that. They're also commonly the opposite of authentic. They typically ask you how you're doing at the beginning of the call—but it's quite apparent that they don't truly care about your answer. They make purposeful small talk just waiting to sell you something—and right away, things don't feel authentic. Chances are, when you encounter calls like these, you can't wait to hang up the phone. This is a great example of how to turn off customers and prospects and something to be careful to avoid while reaching out.
A COMPANY CHALLENGE
Especially within the world of business, we feel pressure to be polished professionals, and when we speak—we often use business lingo instead of "people" lingo. Losing the professional act, however—and getting vulnerable and personal makes you human. Humans want to build relationships with other humans…and being "human" makes you both relatable and likable. It's what helps you to truly connect with others. There's no need to put up a "perfect" façade. That just hides authenticity and blocks the ability to develop true and meaningful connections with the people we meet.
At work, challenge yourself and others to "get real." Not only does being authentic make you more likable and help you build relationships with others, it helps you to operate at your personal best as well. People who are comfortable in their own skin, okay with getting vulnerable and focused on being real experience more professional success than those who seem more like salespeople with scripts.
The benefits are obvious, but getting real can be harder than it sounds. Especially at work. We've pulled together a few of our favorite authenticity tips here:
1 – Practice emotional intelligence (EQ) – According to Inc., research shows that truly authentic leaders and 90% of top performers have a great handle on EQ. People who have a firm grasp on this are always mindful of how their statements and actions impact those around them. This big-picture thought process is incredibly beneficial to being authentic and establishing quality relationships.
Learn more about the direct link between EQ and business success here. >>>
2 – Stop striving for perfection – In job interviews, when people are asked about their greatest weakness, they often name 'perfectionism.' The answer has become cliché, but there may be some truth to it. Personal Excellence.com lists the downsides to perfectionism here. Our focus should be on excellence rather than perfectionism, because to be human is to make mistakes. Making this mental shift can help subtly remind you to be more real.
3 – Get vulnerable – No one knows everything. And work is a great place to showcase this. If you're in a meeting or talking with a client and you don't know an answer, say so. Ask questions. Speak up. Practicing vulnerability will not only help you learn more, but will help you establish your authenticity.
4 – Act with accountability – Making a mistake now and then is pretty much inevitable. And mistakes can be really valuable, because they can be amazing teaching moments. Much more important than avoiding mistakes in the first place is how you handle them. Don't be afraid to admit when your service falls short, and don't make excuses. Practice consistent accountability.
Read more about the value of mistakes and how to use them to boost business and fail successfully here. >>>
These 4 tips seem like small, commonplace things to practice, but they can go a long way toward helping you stay authentic and establish genuine connections. In the New Year, if you'd like deeper client connections or new, happy clients, consider boosting business by regularly practicing accountability, vulnerability, EQ and excellence rather than perfectionism. You might be amazed at the results.
How do you stay authentic, real and approachable for clients and prospects? Share your ideas with us below!
Does your agency have fantastic agents who are great at getting "real?" Hold onto them with these tips: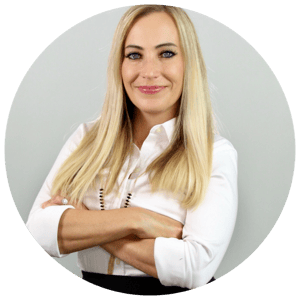 Lindsey Elias, Marketing
As our Marketing Content Manager, Lindsey is passionate about producing quality content. When not at the office or planning her next Disney getaway, she loves hanging with her husband, family and fur babies and indulging in the two c's: carbs & coffee.
Related posts
The more that you, your agency's employees and your clients know about cybercrime and red flags, the better.
Brush-up on your networking skills before your next in-person event!
Cyber Criminals seek out unsuspecting organizations—use these tips to help avoid becoming one of them.