Video is the #1 way to reach people
Thanks to Animal Adventure Park and April the giraffe, I don't think I'm alone in admitting that I've spent way too much time watching a pregnant giraffe on YouTube. After weeks of watching April mosey around her pen and eat lots of snacks I began to wonder: how did she become such a great marketer?
If we only saw photos of pregnant April rather than a live video stream, would we care as much? Considering the fact that pregnant giraffes from other zoos have gone by seemingly unnoticed, it's doubtful. YouTube was the perfect outlet for April – as it is for many companies and brands. In fact, there are over one billion YouTube users today, and by the end of 2017, it's predicted that 74% of internet traffic will come from videos. Are you using YouTube to promote yourself in the insurance industry? Video is informative, personal and what people want. Here are three reasons insurance agencies, agents and brokers should produce YouTube videos:
Networking
Connect with your insureds on new levels! Interview or discussion-based videos will help make your professional relationships more personal by providing faces and names to accompany insurance policies. Use content and resources you already have on hand – whether they discuss tips to help clients select a policy, risk management information or how to use a client portal.
Recruitment
Video can be a great recruitment tool for agencies looking to grow. Get the attention of potential new brokers and agents by interviewing someone from within your organization. Discuss "a day in the life of an insurance agent," or share information to attract people who are new to the industry. Create a sales tips video to attract more seasoned agents.
Promotion
When it comes to content marketing, standard self-promotion tactics are frowned upon. Rather than telling people how great you are, promote yourself by sharing a client testimonial or telling a story that explains why you are passionate about the industry. This will help keep your business at the forefront of peoples' minds each time they think about their insurance policies.
Video is not the future, video is now. Stand high above your competition (just as April does) by utilizing video to connect with insureds, recruit employees or promote your business.
Already using video as a promotional tool? Share helpful resources you've found in the comments below!
---
| | |
| --- | --- |
| | Bri is an animal enthusiast and social media addict who was convinced that April was faking her pregnancy in search of YouTube stardom. |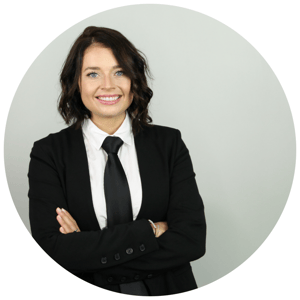 Bri Cappella, Integrated Marketing Specialist
Bri is an over-enthusiastic dog mom, pop culture fanatic and Instagram addict. She enjoys eating pizza, practicing yoga and hiking.
Related posts
Let's talk about what it means to have an accessible website and why it's so important for your insurance agency.
The feeling of being drained from these meetings has become so prevalent it's earned its own terminology – Zoom fatigue.
We think it's time to put to bed the myth that sacrificing sleep is the pathway to success.