How can I use technology in my insurance agency to improve customer relationships? Am I using the right technology? And is it worth the investment?
If you have an "if it's not broke, don't fix it" mentality — you probably have a few reasons (or excuses) why you're avoiding technology.
"My clients' prefer pen and paper."

"Not everyone has a computer, you know."

"What if my clients' don't have a smartphone?"
We get it. Depending on your client-base, these can be very real and legitimate concerns. But the amount of people who fall into this category is getting smaller. Updating your technology is no longer about adapting to younger generations, it's about addressing the general working population.
By next year, 50% of the workforce will be made up of Millennials (those born between 1981 - 1996) and Gen Z (those born after 1997) will make up an estimated 36%. For the most part, these people have grown up (or at least adapted to) in an internet-centric world. They expect modern systems, and if they're not already your clients — they're going to be soon.
A Sit Down with Seifert
Part 2 | Video series with Art Seifert | SEE PART 1 HERE
Listen to Art Seifert discuss the importance of technology for insurance agents and ways to embrace it without breaking the bank:
Arthur B. Seifert has almost 40 years in the insurance industry including positions in sales, financial consulting, underwriting and leadership in multiple companies. He currently oversees six niche insurance programs as the President of Glatfelter Program Managers.
Some agents avoid technology because it delivers a less-personal experience, but that isn't necessarily true. If you use the right resources with the right strategy, your agency can use technology to grow your business.
3 Benefits of technology for insurance agencies:
1. Improved processes
3 out of 4 American employees believe that their employers don't give them access to the latest technology to do their job efficiently.
Implementing new technology might be costly or time consuming, but the end result should be just the opposite. Tech can help you streamline your processes and increase productivity.
Let's say you hear about a new business coming to town and they become a prospective client. Instead of adding their contact information to an excel file, sending an email to other brokers in your agency to let them know that they're on your radar, setting a calendar reminder to call them again in one month and manually sending them a follow-up email — you could have one system for the entire process. Even better, this system could automatically do most of the work for you.
Considering 27% of salespeople spend an hour or more on data entry each day, a system like this could save agents a considerable amount of time (and ultimately save an agency money).
2. Increased client satisfaction
54% of consumers say that they have higher customer service expectations than they did just one year ago. And if you're ignoring their tech and digital desires, that might be bad news for you.
For example, if you don't have an updated website, prioritize mobile needs or frequently check your social media channels — your clients may not be as happy as they could be:
More than 60% of U.S. consumers say that they use digital self-serve tools for simple inquiries such as a website, mobile app, voice response system or online chat.
78% of consumers use a mobile device when interacting with customer service. (And that number jumps to 90% with millennials.)
Churn can increase by up to 15% if businesses fail to respond to customers over social media. (Which is important to note because 35% of U.S. consumers say they've reached out to a business over social media at some point in 2017.)
3. Informed brokers
From cloud storage that allows your agents to have access to the valuable resources, to systems that hold client data — at the most basic level, technology can be used to easily give agents the information they need to do their jobs.
Technology can also be used to give brokers information they wouldn't have otherwise.
Pretend you spoke to a school bus contractor eight months ago about quoting their business. They weren't completely satisfied with their current agent's responsiveness and they weren't sure who their insurance carrier was (let alone what was included in their policy).
You called, even stopped by, but they weren't unsatisfied enough to consider making any moves. You set a reminder to call them in 11 months to follow-up. But out of the blue, only three months later, you get an email to let you know that they visited your website SIX TIMES IN ONE WEEK. Did they have a bad claims experience? Did their broker leave them in the dust?
With higher-tech comes better analytics and reporting. Being informed of your clients' behavior could be the difference between having the right timing or missing an opportunity.
What technology should my insurance agency utilize to help me grow my business?
1. Website
Considering nearly two-thirds of agencies cited maintaining and updating their website as one of their top marketing activities, you probably think about your website a lot. And you should.
There are 3.5 billion searches on Google each day and 78% of location-based mobile searches (i.e.: "insurance agency near me") result in an offline purchase — so if you're narrowing down your efforts, your website is a good place to start.
2. Agency Management Software
If you like the idea of having automated processes and knowing your clients' behavior (like visits to your website), agency management software might be for you. These systems can manage everything from commission tracking, e-marketing (landing pages, social media, online forms, etc), automated marketing (sending emails based on client behavior), analytics (like lead tracking) and CRM (customer relationship management).
However, because agency management software is quite robust, it might be out of budget for some agencies. You can also evaluate which aspects of an agency management software would be the most useful and find smaller programs that could meet those needs. For example, there are free tools to send marketing emails, develop landing pages and manage social media.
3. Comparative Rating System
A comparative rating system allows agents to compare policies across carriers. They can help agents manage quotes, renew policies and evaluate their options.
However, as you know — pricing and comparing policies as "apples to apples" doesn't tell the full story. And don't assume that your customers want the lowest price, either. In fact, one in three customers will pay more to receive a higher level of service.
Carefully consider (and convey to your clients) the added value a carrier brings, their reputation and their company culture. These are all factors that could make the difference between helping a client through a difficult time and losing them altogether.
4. Digital Marketing
Digital marketing, also known as e-marketing, includes all marketing done online. Some of the most popular e-marketing tactics include:
SEO. This determines how/if your agency will appear in a Google search.
Content marketing. Using online content (blog posts, videos, etc) to build relationships with your clients and prospects.
PPC. "Pay per click" brings people to your website through online ads (and you pay for each click).
Email. Sending renewal information, risk management tips, updates and other info through email.
Online PR. Being interviewed as a SME (subject matter expert) by a local online news organizations or bloggers.
Marketing automation. Using software to automate marketing such as emails, social media posts, etc.
The options really are endless when it comes to technology, but don't feel overwhelmed. You don't have to do all of these things or spend tons of money to use tech to grow your business. Consider what resources you already have, look into free resources, evaluate your goals and determine which avenues are most important to pursue.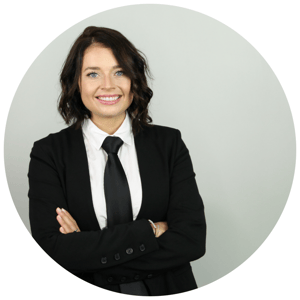 Bri Cappella, Integrated Marketing Specialist
Bri is an over-enthusiastic dog mom, pop culture fanatic and Instagram addict. She enjoys eating pizza, practicing yoga and hiking.
Related posts
The more that you, your agency's employees and your clients know about cybercrime and red flags, the better.
Let's talk about what it means to have an accessible website and why it's so important for your insurance agency.
The feeling of being drained from these meetings has become so prevalent it's earned its own terminology – Zoom fatigue.